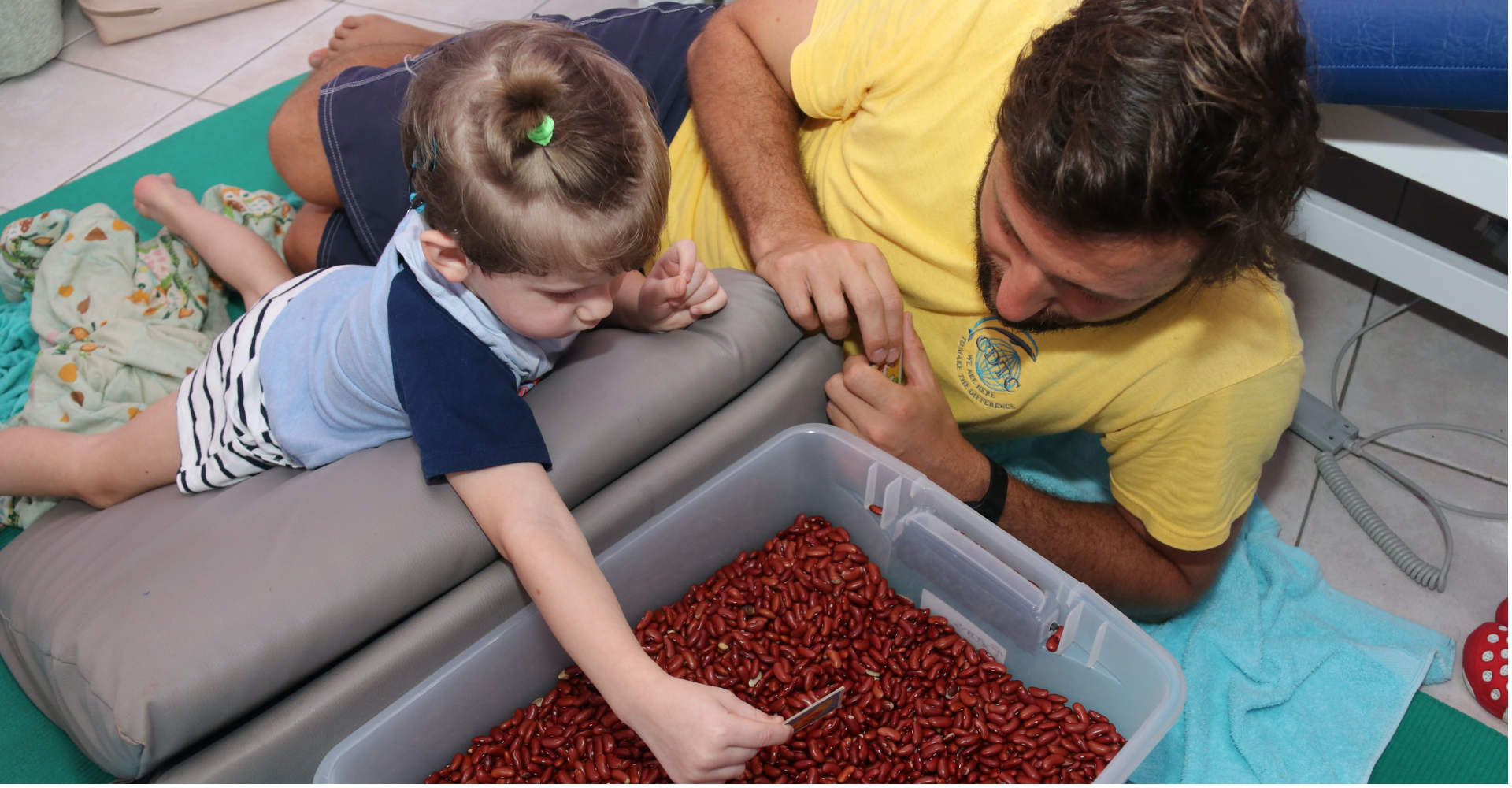 Dolphin-assisted Therapy:
Research
STUDIES PROVE EFFICACY
Intensive animal-assisted therapy with dolphins does not perform miracles. It will not heal patients. However, studies show positive effects with dolphin-assisted therapy. A 2012 study at Munich University was able to demonstrate significant improvements in intelligence, concentration, motor skills, prosocial behavior and other abilities.
In the scope of this study, 157 children diagnosed with autism, trisomy 21, mental retardation and infantile cerebral paresis (ICP) were examined. 103 participated in the two-week multidisciplinary therapy program at the Curacao Dolphin Therapy Center (CDTC). The children, at the time, were between four and fifteen years old. Data were collected at three different points during the study: directly prior to therapy, after therapy and half a year later. Prior to the actual study, a pre-examination was performed. This study group was compared to children not participating in the intensive therapy program (control group 1: autism, trisomy 21, mental retardation) or children participating in an intensive therapy program at Schön Klinik München-Harlaching (Control Group 2: ICP).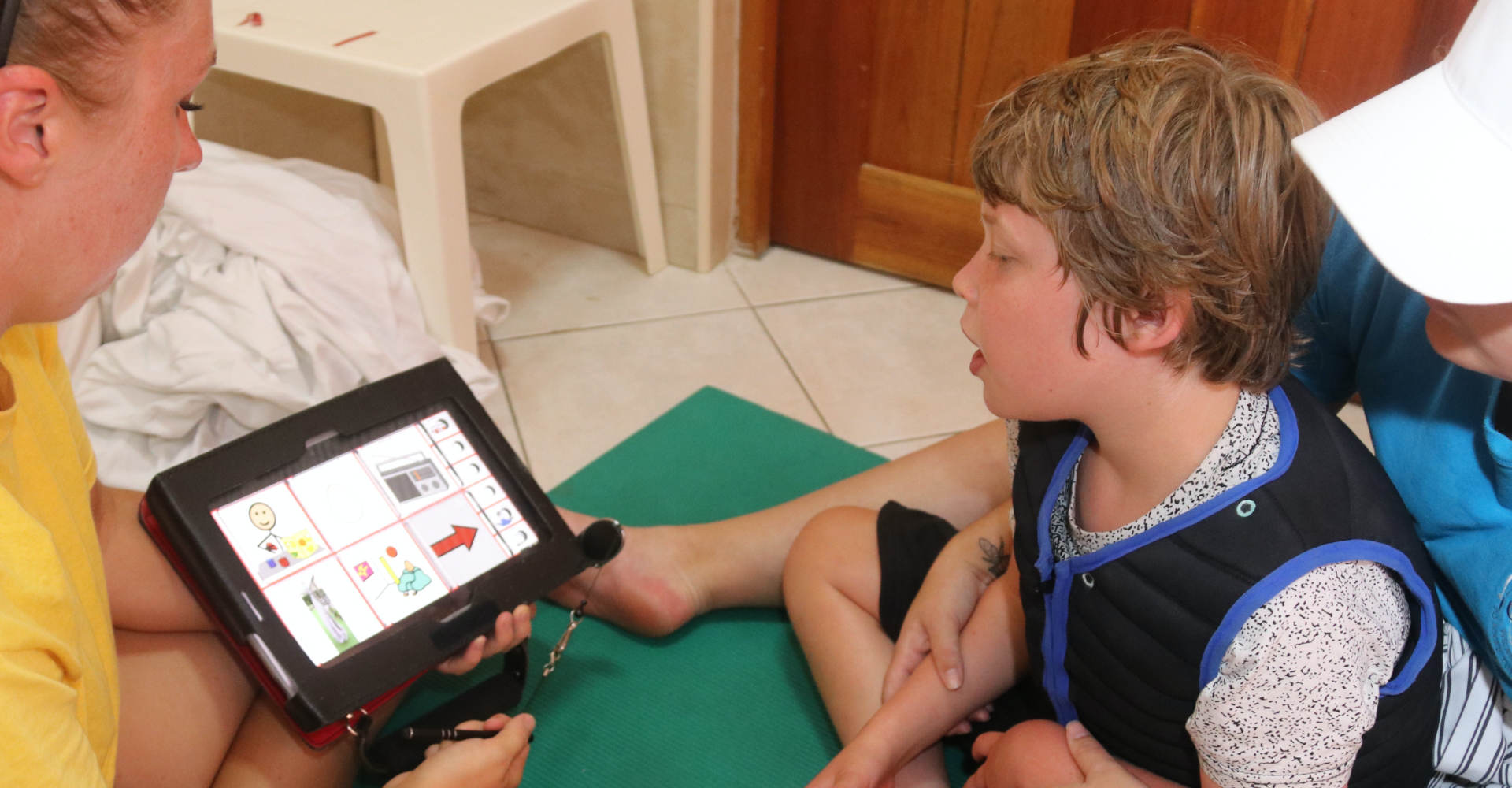 RETURN TO LIFE
In general, studies show that children and adults with special needs who work with the dolphins will learn four times faster and with increased intensity. They become more alert, attentive and awaken from their isolation and apathy. For family and patients having undergone conventional therapies unsuccessfully, these are invaluable results.
A number of studies and publications on intensive dolphin-assisted therapy are available.
More studies:

Please refer to this list
for other research studies
that have already been published.
RANGE OF INDICATIONS FOR THE THERAPY
Intensive dolphin-assisted therapy can be applied to a variety of conditions and special needs. "delphine therapieren menschen" has decades of experience with the applications and results of this therapy.
Patients with the following diagnoses and symptoms can experience very positive results through participation in the intensive dolphin-assisted therapy program:
A
Achondroplasie
Agenesie des corpus callosum
Angelmann-Syndrom
Anoxie
Aphasie
Apallisches Syndrom
Apraxie
Arthritis
Arthrogryposis
Asperger-Syndrom
Asthma
Ataxie
ATR-X Syndrom
Auditive Verarbeitungsstörung
Aufmerksamkeits-Defizit-Syndrom
Autismus
B
Bakterielle Meningitis
Blindheit
C
Cerebrale Atrophie
Cerebrale Diplegie
Cerebrale Hyperplasie
Cerebrale Parese
Chromosomenring
Coffin-siris-Syndrom
Cornelia de Lange-Syndrom
Corpus Callosum Aplasie
Costello-Syndrom
Cri du chat
Cystische Fibrose
Cytomegalie
D
Dandy-Walkers Syndrom
Degenerative Muskelerkrankung
Depression
Digeorge-Syndrom
Down-Syndrom
Denys-Drash-Syndrom
Dubowitz-Syndrom
Duchennes Muskeldystrophie
Dysarthrie
Dysphasie
Dyspraxie
Dystonie
E
Elektiver Mutismus
Encephalitis
Encephalopathie
Entwicklungsverzögerung
Epilepsie
Ewing Sarkom
F
Fragiles X-Syndrom
Friedreichsche Ataxie
G
Gehirntumor
Glasknochen-Krankheit
H
Hämangiom
Hemiplegie
Herzfehler
Holoprosenzephalie
Hörproblem
Hurler-Syndrom
Hydrocephalus
Hypotonie
Hypoxämie (Beinahe-Ertrinken)
Hypoxie
J
Joubert-Syndrom
Juvenile-Encephalitis
L
Landau-Kleffner-Syndrom
Leigh-Syndrom
Lennox-Gastaut-Syndrom
Leukämie
Leukodystrophie
Lissencephalie
Lou-Gehrigs-Syndrom
Louis-Bar-Syndrom
Lupus
M
Manische Depression
Marshall-Smith-Syndrom
Meningitis
Mentale Retardierung
Mitochondriale Myopathie
Moebius-Syndrom
Monosomie
Morbus Canavan (od. metachromatische Leukodystrophie)
Morbus Hodgkin
Mosaik-Trisomie 13
Multiple Sklerose
Multiple Systemstörung
Muskuläre Atrophie
Muskuläre Dystrophie
Myalgische Encephalitis
Myatonische Dystrophie
N
Neurofibromatose
Neuromotorische
Funktionsstörungen
Neuronaler Migrations Defekt
Noonan-Syndrom
O
Optische Atrophie
Organisches Hirnsyndrom
P
Periventrikuläre Leukomalazie
Pierre-Robin-Syndrom
Poliomyelitis
Prader-Willi-Syndrom
Proteus-Syndrom
R
Rett-Syndrom
Reye-Syndrom
Rubinstein-Taybi-Syndrom
S
Sotos-Syndrom
Sauerstoffmangel-Syndrom
Schädel-Hirn-Trauma
Schlaganfall
Schütteltrauma
Sensorische Integrationsstörung
Sklerodermie
Smith-Lemli-Opitz-Syndrom
Smith-Magenis-Syndrom
Spastische Diplegie
Spastische Spinalparalyse
Spastische Quadriplegie
Spina bifida
Spinale Muskelatrophie
Sprachstörung
Sprachverzögerung
T
Taktile Abwehr
Tetraparese
Tourette-Syndrom
Traumata
Triplegie
Trisomie 5
Trisomie 6
Trisomie 8
Trisomie 9
Trisomie 13
Trisomie 15
Trisomie 18
Trisomie 22
Tuberöse Sklerose
V
Ventrikuläre Hypertrophie
Verhaltensstörung
W
Wachkoma
Wolff-Syndrom
Worster-Drought-Syndrom