Dolphin therapy helps children and adults
Smiling, making a sound, lifting an arm – reactions elicited by the presence of and the encounter with the dolphins. As early as in 2003, an independent European study was able to show the positive impact dolphins can have within the scope of an animal-assisted therapy. Ever since, scientific studies have repeatedly confirmed the efficacy of this therapy form for many physical and mental disabilities. The dolphins, with their playful ways, are able to release children and adults from their isolation and apathy. Persons affected will be more alert and better able to concentrate and they can use the skills they already possess more effectively.
"delfine therapieren menschen" have decades of experience with the intensive dolphin-assisted therapy. Since our founding in 1996, we have been counselling and supporting patients and their families. This animal-assisted therapy with dolphins enables a successful rehabilitation for many diagnoses. It has been shown to be efficacious for long-term sustainable individual improvements that provide hope for a more self-reliant way of living.
INFORMATION FOR FAMILIES AND PATIENTS
INFORMATION FOR SUPPORTERS
Highly intelligent animals

Dolphins' brains are five times larger than the average brain of animals their size.

Incredible swimmers!

Bottlenose dolphins can swim as fast as about 50 km/h.

Expert communicators – by whistle and click

Clicking is for echolocation, it is how they monitor their surroundings, get their bearings and also how they hunt.

Good doctors!

Their sonar system can even locate embryos within other animals' bodies!
ABOUT US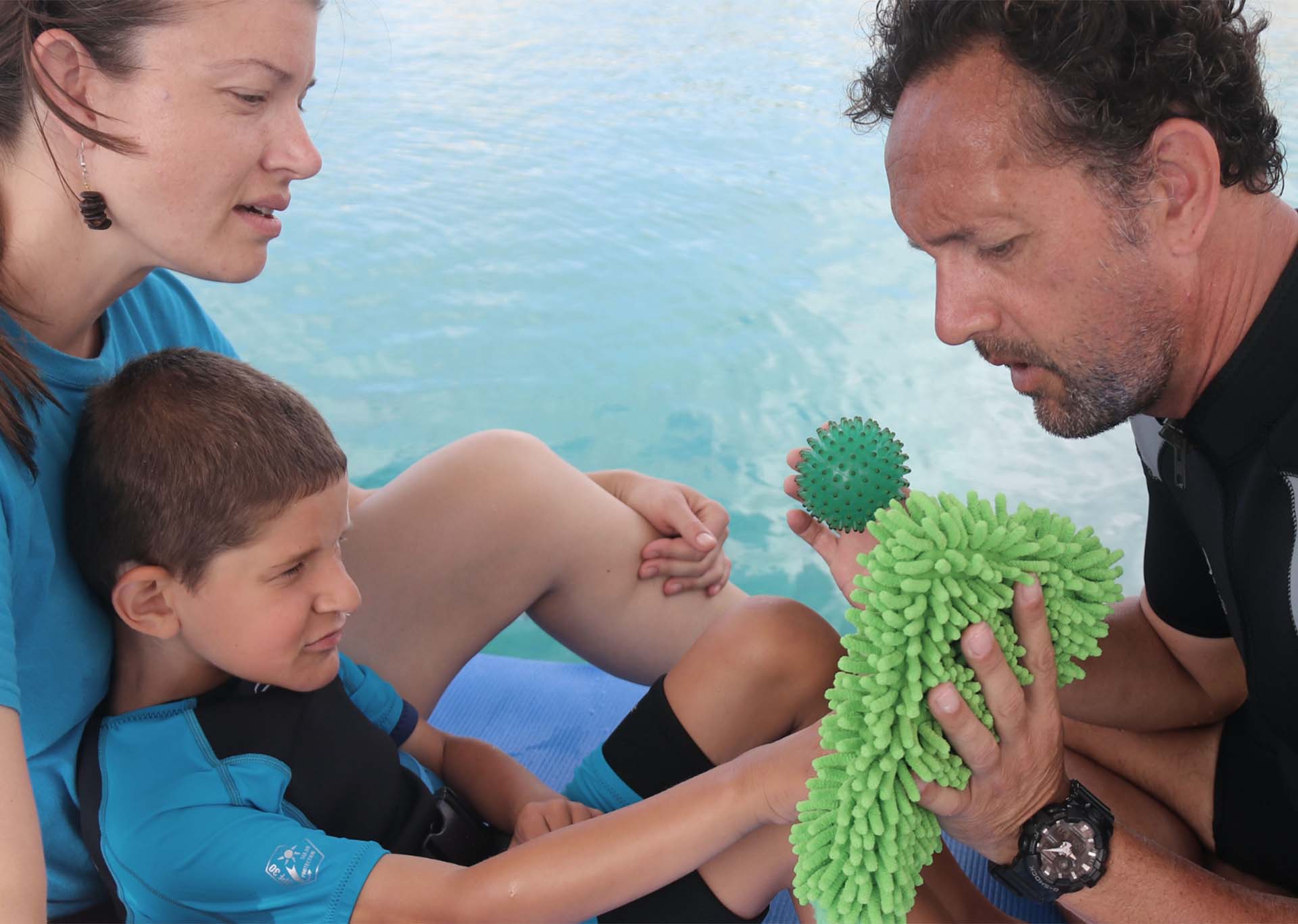 News
Tatjana Patitz

(* 1966 – † 2023) We are deeply saddened by the death of our ambassador Tatjana Patitz. She was with us for...

Happy and healthy new year 2023!

Dear families and supporters, The entire team wishes you and your loved ones a happy new year with lots of joy and...

Merry Christmas!

Dear families and friends, We wish you a relaxing and happy Christmas time. Treat yourself to a little break with your loved...

June 2022 COVID-19 Update

Dear families, friends, and supporters, Fortunately, most of the COVID-19 protective measures have now been withdrawn. We would like to inform you...

Statement

on selling dolphins to Fakieh Aquarium, Jeddah, Saudi Arabia Yesterday the Sea Aquarium Park on Curacao sent the five dolphins Machu, Serena,...

Happy Easter 2022

Dear families, friends and supporters, The entire team at delfine therapieren menschen wishes you and your families a happy Easter. Enjoy the...